Jack and June
DIY Swing Set Bracket
Item #: PG9000W
<! –– Bazaarvoice Shopify Integration Version 2.1 ––>
DO-IT-YOURSELF BUILD — Building your own swing set has never been easier! Jack & June's DIY kit uses heavy-duty steel brackets for the safest and quickest way to build your own.
INCLUDES ONE BRACKET AND HARDWARE – Brackets are sold individually; this listing is for ONE bracket with hardware. Purchase two brackets to build an A-frame swing set. Mounting hardware included (14 bolts and 14 washers)
HEAVY-DUTY CONSTRUCTION — Heavy-duty swing set brackets are made of steel and protected with a powder-coated finish for performance and durability
QUICK, EASY, AND SAFE INSTALLATION — Construct an A-Frame swing set in only minutes with included brackets and hardware. Slide beams into brackets and use brackets' holes as a template to build.
LUMBER AND SWINGS SOLD SEPARATELY — The lumber and swings are not included in this set. Jack & June recommends purchasing one 4x6 top beam and four 4x4 support legs to complete your DIY swing set build.
Easy DIY Set-Up
Jack & June's DIY swingset kit is the quickest and safest way to build your own swing set today! Jack & June make it easy to build your own swing set. Our heavy-duty DIY swing set Bracket is strong, safe, and simple to assemble in minutes! Simply slide each end of a 4x6 piece of lumber into the top ends of our powder-coated brackets, then secure with our included bolts and washers. Do the same with 4x4 lumber for the legs and lift the playset right up. You can use this DIY kit with many kinds of swings: belt swings, toddler swings, round swings, hammocks, tire swings, and more. This item is for one DIY swing set bracket, plus mounting hardware only. Purchase 2 brackets to build an A-Frame swing set. Lumber and swing attachments are sold separately. For added safety, secure your swing sets safely with our anchor kit. The Jack & June Anchor kit secures and stabilizes your swing set to give your kids more confidence playing on it, and you more confidence in its safety. The anchor set is compatible with DIY Swingsets and Jack & June playsets and includes anchors, lag screws, and washers to safely secure play set.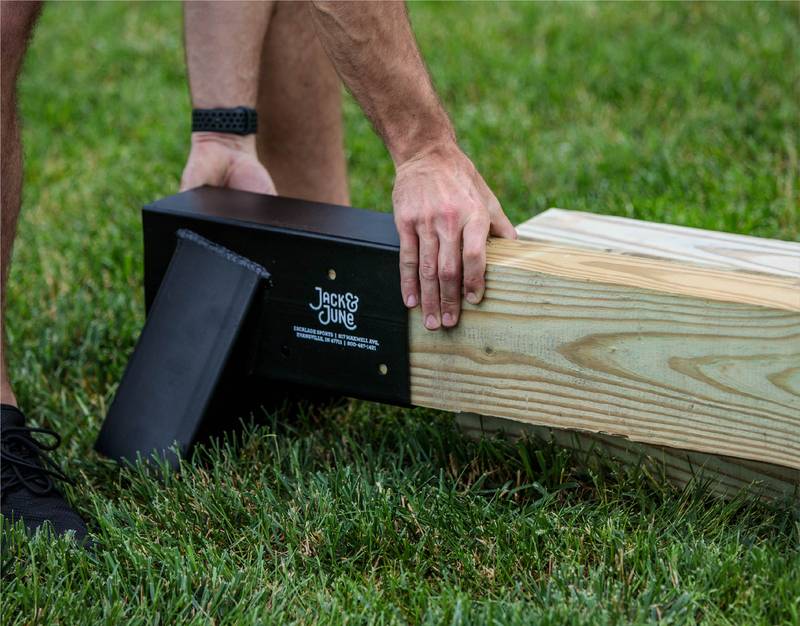 Features

Easy Assembly
Holes provide easy template and swingset assembles in minutes

Ultra-Durable
Made of steel with powder coated finish for performance and durability

Not Included
Lumber is not included, must be purchased separately

Warranty
1 year limited warranty
Price
Includes
Measurements
Weight
Warranty
Jack and June
DIY Swing Set Bracket
$79.99
1 swing bracket, 18 lag screws, manual
16" L x 8" W x 14" H
14 lbs
1 year limited
Jack and June
Swing Set Anchor Kit
$16.99
4 anchors, all necessary hardware, manual
16" L x 7" W x 3" H
3 lbs
1 year limited
<! –– Bazaarvoice Shopify Integration Version 2.1 ––>