Woodplay
Four-Rope Red Round Swing
Item #: PG-SW-RNDR-024
<! –– Bazaarvoice Shopify Integration Version 2.1 ––>
ADD TO SWINGSET OR TREE LIMB — This four-rope saucer swing is designed to be added to an existing swing set or mounted to a strong healthy tree limb
HIGH-QUALITY MATERIALS — Our four-rope design is made of high-quality materials and allows for a wider range of motion for nonstop fun and years of play
WEIGHT LIMIT — Our swing can hold up to 300 lbs. when properly installed. The frame is made of steel and is covered with foam for comfort and safety
SWING STAYS DRY — The permeable heavy-duty nylon lets water drain through to keep the swing dry and ready for the next rider
EASY ASSEMBLY — Assembly takes less than 15 minutes with the included instructions. Swing easily hangs from existing swing sets or purchase a tree hanging kit sold separately
What could possibly be more fun than swinging? Swinging together! Go ahead and add the Woodplay Four-Rope Saucer Swing to your swing set for even more added years of nonstop fun for your kiddo AND you. This round swing allows for a wide range of motion, and its steel frame construction stands up to any weather that might get in the way. It is permeable, heavy-duty nylon mesh, this material allows the water that might get into it after a rainfall drain all by itself without any hassle, which will also keep the seat dry for the next rider of the swing while a foam cover will continue to ensure comfort for all riders. The four-rope round swing can hold up to 300 lbs., and can also hang from any existing swing set you might already have, or it can also hang from a healthy tree limb with a tree-hanging kit that is sold separately. Start your child's playing and enjoying today on our Round Swing! The memories are endless when you buy a basket swing!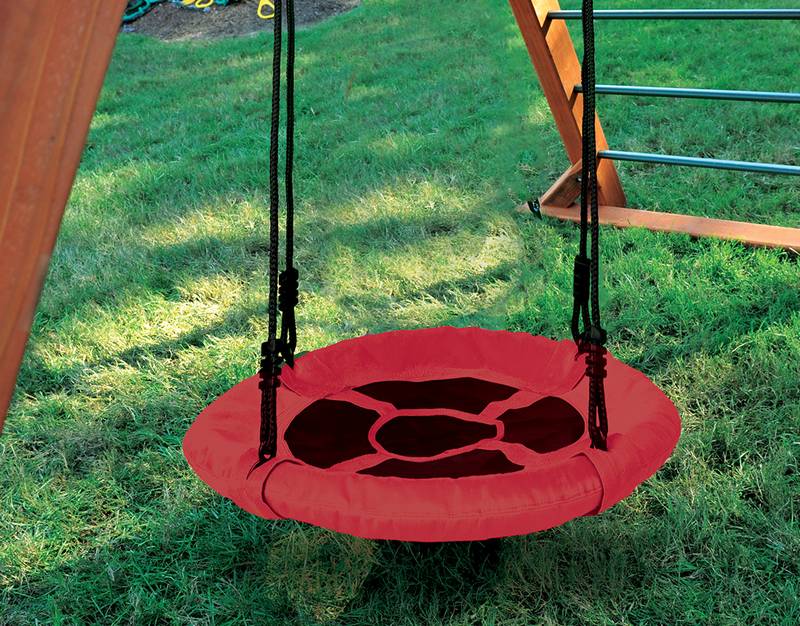 Features Dimensions
24" or 30" diameter swing

Added Fun
4-rope design allows for wider range of motion

Weight Limit
Weight limit up to 300 lbs. Comfort and Safety
Steel frame covered with foam PERMEABLE NYLON
Seat base made form permeable heavy-duty nylon to let water through
<! –– Bazaarvoice Shopify Integration Version 2.1 ––>