Store information
Applegate Furniture Direct
4200 Boardman Canfield Rd.
Canfield, OH 44406
Store hours
Mon-Fri 10:00-6:00
Sat 10:00-5:00 & Sun 12:00-5:00
About
Our network of experienced Woodplay Playset dealers would love to help you create the perfect playset. Our dealer will work with you to design the swingset of your dreams. From design to installation, your local Woodplay dealer will be there for you every step (and swing) of the way! Applegate Furniture Direct, located in Canfield, Ohio, proudly services Youngstown, Canfield, Boardman, Poland, New Wilmington, Columbiana, Cortland, South Pymatuning Township, Hubbard, Howland Center, Lordstown, and many more. When you request a quote or request a catalog and complete the short form providing your contact information, your local swing set dealer will reach out to you directly within three business days with their seasonal sales pricing and promotions. Shop by their shop in person to customize your dream playset together, see showroom models firsthand, and set up installation. Shopping for a playset does not have to be challenging! Contact this local dealer if you have any questions whatsoever. We can't wait to see your future playset!
Read more +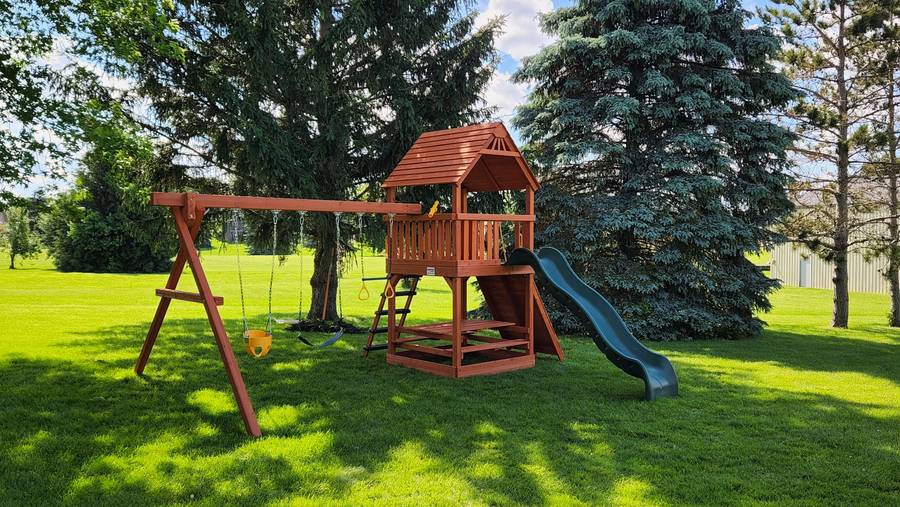 Woodplay Safari Series Monkey Tower with Wood Roof
Check out this Woodplay Safari Series Monkey Tower swing set featuring a 10' Green Wave Slide, Green and Yellow Rock Wall Climbing Kit, and a Yellow Toddler Swing. The Monkey Tower wooden playset is great for compact and smaller backyards that do not have a lot of extra space to play.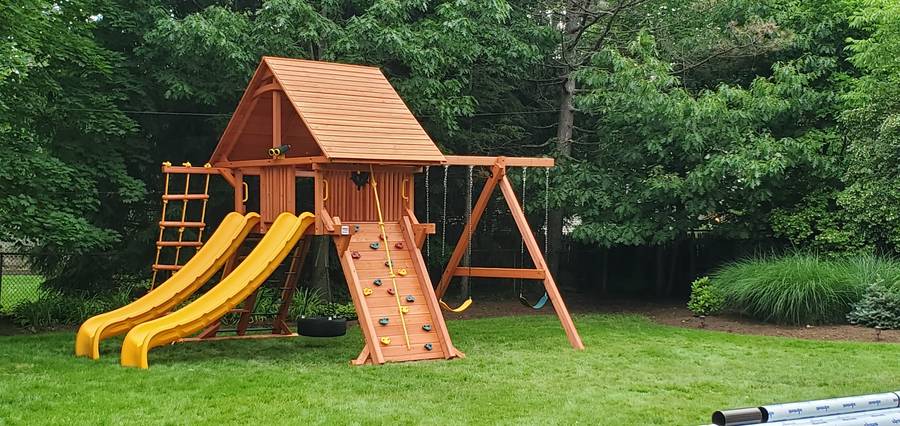 Woodplay Outback 6 Combo 2 Swingset with XL Deck Upgrade
This Woodplay Outback Series Combo 2 features a Wood Roof, 11' Yellow Alpine Slide, green, red, and yellow Rocks for climbing, Tire Swing, 11' Yellow Alpine Slide, a Green Belt Swing, and so much more. The Outback playset offers a slanted base for plenty of room to play underneath. Your local dealer can customize each playset however you like.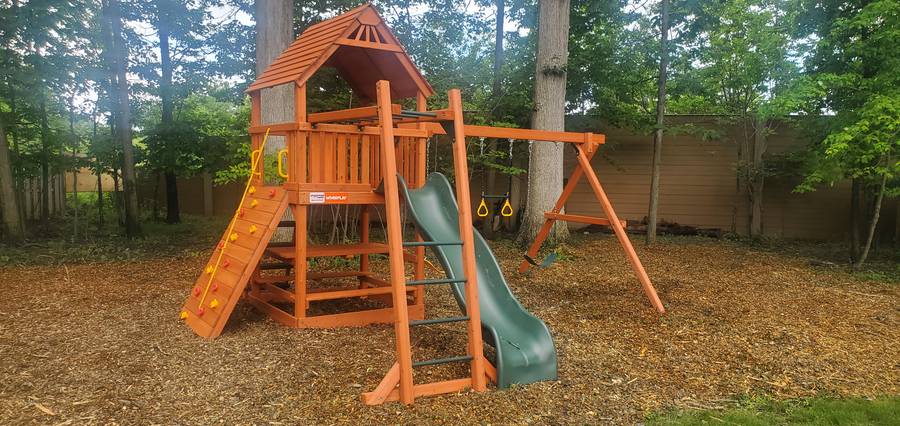 Woodplay Safari Series Monkey Tower Swingset
This Woodplay Safari Series Monkey Tower playset features a Wood Roof, 10' Green Wave Slide, and a Red and Yellow Rock Wall Kit. The Monkey Tower swing set is great for smaller and more compact backyards. Woodplay offers a playset for every family and every backyard size! Shop online for our premade playsets or reach out to your local dealer today to customize a set unique to your family. Our local dealers will work closely with you to find the wooden swing set that works best for you and your children.