Jack and June
Adult Circular Redwood Picnic Table
Item #: JJ-PIC-CIR-RW
<! –– Bazaarvoice Shopify Integration Version 2.1 ––>
CIRCULAR PICNIC TABLE — Comfortable place to socialize with friends or family for kids or adults
MADE OF PREMIUM REDWOOD — Clear stain finish for natural wood tone look and can be stained
EASY ASSEMBLY — Ships partially built with detailed instructions to assemble in minutes
ROUNDED CORNERS — Edges are rounded for added safety
DIMENSIONS — 60" Long x 70" Wide x 35" Tall and Supports 800 lbs.
Don't wait! Enjoy, sit back and relax at the perfect Jack & June Picnic Table, perfect for any occasion and social gathering. This circular table is a comfortable place to socialize with friends or family, for both kids and adults outside. It can be the perfect new place to grill out and eat dinner at on a warm summer evening with the whole family on the back patio, or as a game night spot for a group of friends-- the options are endless! This beautiful table is made of premium redwood and the table also features a clear stain finish for a natural wood tone look that has the option to be stained. The circular table has rounded edges for added safety, which is great if there are kiddos around, and is also equipped with commercial grade lumber for even more added safety as well as greater durability. Assembly of the table is super easy and convenient; it can be built in minutes. The table is sized for both kids and adults to enjoy at any time, and it also happens to come partially built as well, as it is included with detailed instructions on how to finish putting it all together so you can fully enjoy it.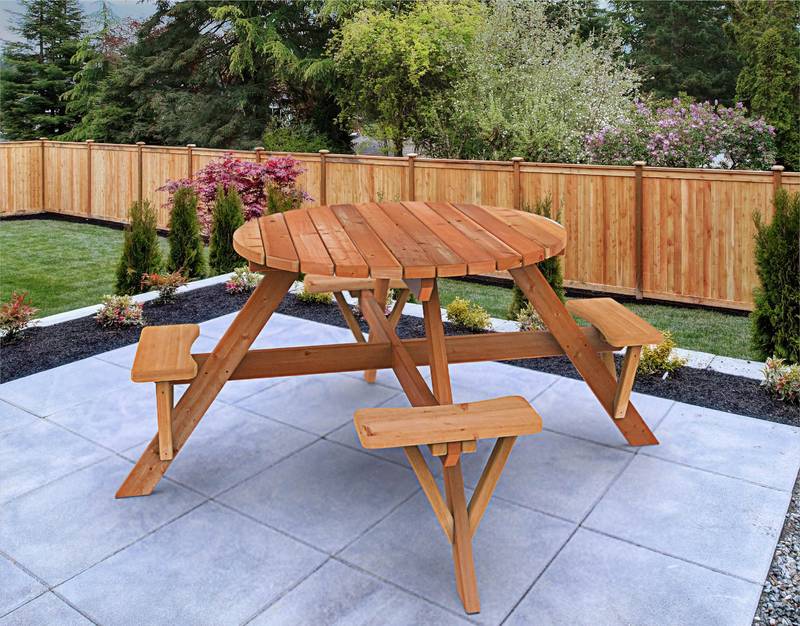 Features ROT RESISTANT LUMBER
Made from premium redwood Small Footprint
For compact yards or patio spaces Modern Finish
Clear stain finish for natural wood tone look Warranty
1 year limited warranty 3 and Up
Perfect for kids ages 3 and up
<! –– Bazaarvoice Shopify Integration Version 2.1 ––>