Woodplay
Playset Spotlight
Item #: AC-SPOT-G
<! –– Bazaarvoice Shopify Integration Version 2.1 ––>
HAND CRANK — Powered by a few simple turns on the side crank
PROVIDES PLAY AFTER DARK — Enjoy your playset even after the sun goes down
INCLUDES — 12 LED bright light bulbs to add extra illumination in the dark
ROTATING LIGHT — Provides light for over 100 square feet and rotates 360 degrees
NO WIRING — Requires no wiring – mounting material included
When the sun goes down, the fun must keep going! The Woodplay Hand Crank Powered Spot Light Playset Attachment lets you extend those long summer days far into the evening. This solar-powered, LED light illuminates 100 square feet of your backyard play area, so the fun does not have to end when the sun goes down, it can only just begin. This light will also give you peace of mind and your children more confidence stepping and climbing on their playset without natural daylight. This will also give the kids something to do at night while being safe too. The light is powered by a few simple turns on the side crank in order to turn it on to allow the play to continue after dark. The kids can continue playing or even play flashlight tag in the yard, or make their playset feel like a light house. When you purchase the spotlight from Woodplay, it includes 12 bright LED light bulbs to add extra illumination in the darkness, or when it is about to become darker. The light provides radiance for over 100 square feet, and it also happens to rotate 360 degrees so you will not have to worry about the light sitting in one spot the whole time. It does not require any wiring for use of the light, and the mounting material is all included at the time of purchase. Much like a lot of our other Woodplay products, this spotlight also features a one-year limited warranty as well. So, come on and start helping them build their imagination even more than it already has. Accessorize your playset with the Woodplay Swing Set Spotlight Playset Attachment for your little one.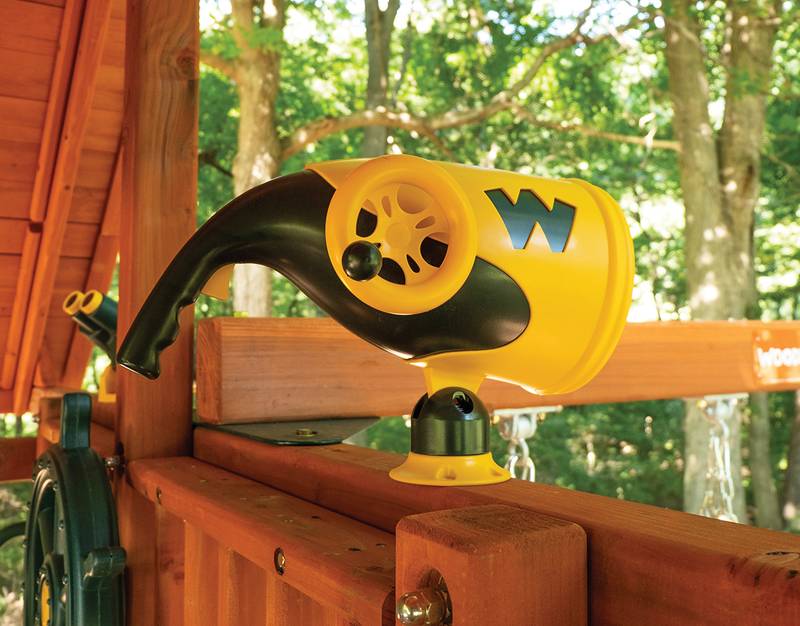 Features Hand Powered
Powered by hand crank

Lights Up
12 LED light bulbs Shines Further
Provides light for over 100 sq. ft.

Fully Rotates
Rotates 360 degrees Warranty
1 year limited warranty
<! –– Bazaarvoice Shopify Integration Version 2.1 ––>