Woodplay
Playset Belt Swing
Item #: PG-SW-BSY-080
<! –– Bazaarvoice Shopify Integration Version 2.1 ––>
INCLUDES — One belt swing fully assembled with a belt seat and plastic-coated swing chains – Seat and plastic coating available in 3 different colors
BELT SWING MEASUREMENTS — Swing chains are 80 inches in length; the bottom 25 inches are coated in green plastisol for a soft, comfortable grip
ATTACHES TO BEAMS UP TO 9 FEET TALL — Swing seat measures 26 inches long and 5.5 inches wide and attaches to most swing beams up to 9' tall
PROTECTIVE COATING — Swing chains are made from steel and coated in zinc for rust resistance
HEAVY-DUTY BELT SWING — Designed for children but strong enough for adults with a weight limit of 630 lbs. (When properly installed to a correspondingly strong beam.)
A strong, safe swing that will excite and inspire kids! Jack & June's Belt Swing is designed for children, but strong enough for any adult, with a weight limit of 630 lbs. It makes a great replacement swing, or an additional component to your existing set so the whole family can join the fun. The bottom 25 inches of the chain are encased in plastisol for a comfortable grip that never pinches your hands.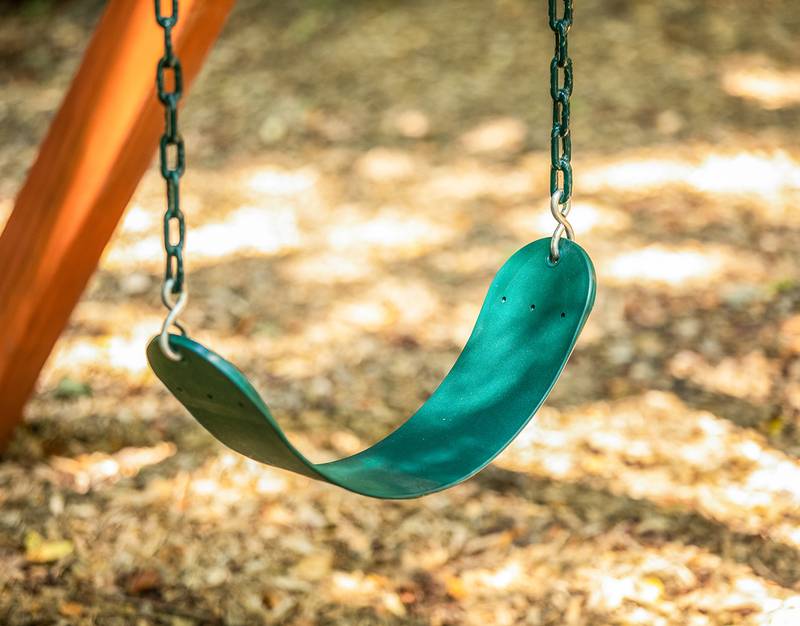 Features

Dimensions
26" long swing seat

SOFT, COMFORTABLE GRIP
Chains are 80" in length with 25" covered in plastisol

RUST RESISTANT
Steel chains coated in zinc for rust resistance

Weight Limit
Weight limit of 630 lbs.

Warranty
1 year limited warranty
<! –– Bazaarvoice Shopify Integration Version 2.1 ––>