Woodplay
Hammock Swing
Item #: HAMMOCK-SWING
<! –– Bazaarvoice Shopify Integration Version 2.1 ––>
HAND-WOVEN COTTON — Adult hammock swing made from 100% hand-woven cotton
SWING INCLUDES — Spreader bar, chain, and attachment clip, and all hardware necessary for installation
LARGE HAMMOCK — Spacious enough for one adult or multiple children
EASY INSTALLATION — Easy to install or remove and put in storage – easily attaches to playset or tree
FAST ASSEMBLY — Comes in compact package and assembles in minutes
When someone's imagination calls for relaxation, break out this hammock. Whether you are young or old, everyone deserves some good relaxation time; add a unique flair your backyard playset or tree house with the Woodplay Cotton Hand-Woven Hammock Swing Playset Attachment. The hammock is made from 100 percent cotton, this hammock will add not only comfort and relaxation to outdoor play time, but a chance for you to watch the kids, cozy up and read a good book, sip on some morning coffee and watch the sunrise in the brisk air, or maybe even take a good afternoon cat nap. This hammock offers a high back with a deep seat in order to allow you to lean back almost as if you were laying down—talk about comfortable! The hammock has a weight limit of 250 lbs., making this swing spacious enough for any adult to relax on or any one to hang around on as well. It is easy to assemble in just minutes and does include all of the necessary hardware for assembly. NOTE: If you wish to hang from anything other than a swing beam or tree, you must consult a licensed contractor. We do not provide the hardware to hang from anything other than a swing beam or tree.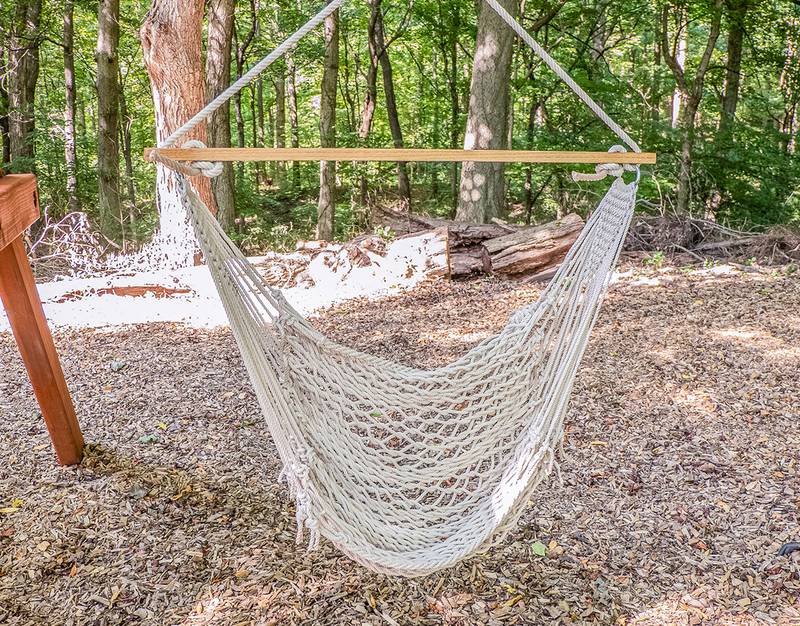 Features

Ultra-Durable
100% hand-woven cotton

3 and Up
Perfect for adults or children ages 3 and up

Weight Limit
Weight limit of 250 lbs. Warranty
1 year limited warranty
<! –– Bazaarvoice Shopify Integration Version 2.1 ––>