Jack and June
Sand Box Cover
Item #: JJ-SANDBOX-COVER
<! –– Bazaarvoice Shopify Integration Version 2.1 ––>
DESIGNED TO PROTECT SANDBOX TOYS AND SAND — Protective cover designed to prevent sand and toy contamination
COMPATIBLE WITH — Sandbox cover is designed to fit the Jack and June Hexagonal Sandbox
EASY TO STORE — Portable and easy to store and fold when not in use
WATERPROOF REVERSIBLE DESIGN — Protects sandbox from elements with waterproof reversible design
MULTIPLE USES — Can be used for other sandboxes, fire pits, etc., and comfortably fits spaces with a diameter of 48"
Do you want to keep your sand clean, dry, protected, and in the actual sandbox when you are not using it? Maybe you want to make sure animals are not getting into the sandbox in the middle of the night. Or maybe you are just tired of having to clean the sandbox out and replace the sand after every type of weather because you are having a hard time keeping it dry and clean. Whatever the case might be, now you can guard your Jack & June hexagonal sandbox with this awesome protective sand cover. It has spectacular waterproof design that protects the sandbox from elements and contamination, and it also always keeps your redwood box in premium condition regardless of what tries to go in it or the weather. The cover can comfortably fit into spaces with a diameter of 48" and can be used for other sandboxes, fire pits, etc. as well. When the sandbox cover is not in use, the cover is portable and has an easy to store design and fold up option when not in use. The sandbox cover also has elastic corners for an even more secure grip around the edges to give a taught attachment. The sand box cover is reversible, and it can be used on either the black or green side, which also makes it easy to match. No tools necessary, just unpack and cover!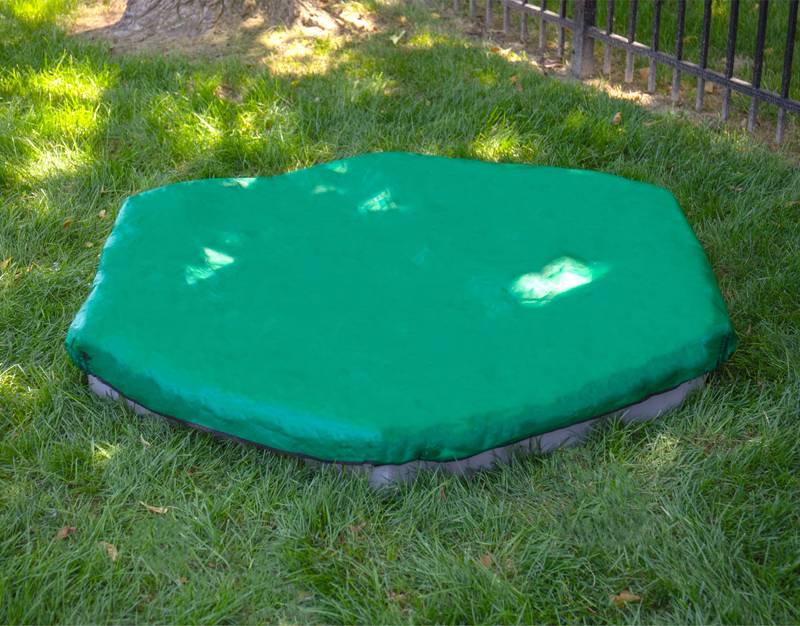 Features
Reversible
Double-sided cover Dimensions
Fits openings up to 48" in diameter

Secure
Features elastic corners for secure grip around edges

Warranty
1 year limited warranty
<! –– Bazaarvoice Shopify Integration Version 2.1 ––>